EXCLUSIVE Offer
MORE THAN 60% OFF
BECOME A LEADING
TRAUMA SPECIALIST
Did you watch the webinars?
Watch the replays below!
Take it one step further
AND GET THE AMAZING DISCOUNT
BECOME AN INDUSTRY LEADER
Comprehensive Training: TCT courses provide in-depth knowledge and practical skills that equip you with a deep understanding of trauma and effective techniques for its resolution. This comprehensive training ensures you have a solid foundation to address a wide range of trauma-related issues.
TRAUMA SPECIALIST
TCT training equips you with a diverse set of tools and techniques specifically designed for trauma resolution. These techniques go beyond traditional talk therapy and incorporate innovative approaches to address trauma at its core. As a result, you will have a unique skill set that sets you apart from general practitioners, allowing you to provide focused, impactful, and transformative trauma healing.
AS A TRAINER YOU EARN MORE
As a TCT trainer, you can offer certification courses and workshops to professionals in the mental health, counseling, and coaching fields. Many practitioners seek to enhance their skills in trauma healing to better serve their clients. By providing TCT training, you fulfill this demand, attracting participants who are willing to invest in their professional development. The high demand for quality trauma training allows you to charge higher rates for your services.
Click HERE to start your journey
Or check out the main site here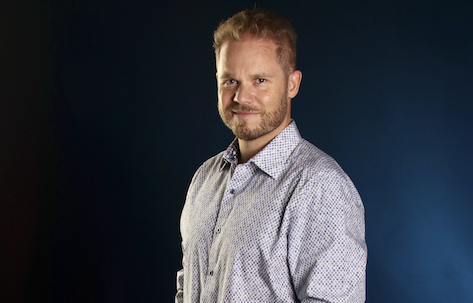 We're proud to have Martin leading our team of highly qualified professionals, all acknowledged experts in their respective fields with international certifications. Martin's experience as a renowned hypnosis instructor, content developer, keynote speaker, and performer has made him a well-known figure on the international stage and conference circuit.
With a diverse background as a licensed international bodyguard and founder of one of Denmark's largest undercover security firms in the 90s, Martin's 4.5-year degree in photography, editing, and journalism makes him the ideal candidate for bridging the gap between complex and sophisticated content, and simplifying it for modern hypnotherapy, coaching, and skill-building.
Martin's exceptional abilities to inspire and transform have earned him numerous awards and recognition, including the ICBCH Educator of the Year Award 2019, ACHE's Award of Recognition for Outstanding Professional Presentation 2019, and the North American Academy of Hypnosis Instructor of the Year Award 2018, to name a few. He sits on several advisory boards and is a bestselling author, certified in multiple areas including NLP, hypnotherapy, life coaching, and more.
Discover the power of exceptional communication and transformation with Martin Castor, your ultimate business coach!
AWARDS:
ICBCH's Educator of the Year Award 2019

ACHE's Award of Recognition for an Outstanding Professional Presentation 2019

North American Academy of Hypnosis Instructor of the Year Award 2018

ICBCH's Award of Contribution to Hypnotherapy 2018

ACHE's Award of Recognition for an Outstanding Professional Presentation 2018

IHF's Award of Excellence of International Education 2013.
CERTIFICATIONS:
Certified Trainer in Brain-based Leadership & Training

Certified HNLP & NLP Trainer

Certified NLP Practitioner & Master NLP Practitioner.

Certified Master Hypnotherapist.

Certified Transformational Leadership Consultant.

Certified Executive & Professional Life Coach.

Certified clinical hypnotherapist.

Certified Conversational Hypnotherapist.

Certified Ericksonian Hypnotherapist.
Advisory roles:
ACHE Vice President, and chair of Marketing & Conference

Advisory Boardmember of ICBCH

Advisory Boardmember of ISAHt

Advisory Boardmember of IHF
AUTHOR:
2023: Two hypnotic children books for sleeping disorders, published on Amazon.

2019: Bestselling author in the psychology category on Amazon: "Your successs starts with your pre talk!"
DEVELOPER OF:
Modern Conversational Hypnotherapy™

Instant Emotional Relief

™

Gastric Hypnosis The Ballon Method ™

Performance Enhancement Protocol

™

EEL, PEP, CERI, POC

Inductions ™

Trauma Collapse Technique ™

Martin Castor's Show & Stage Hypnosis Techniques™

Addiction & Behavioral Modification™

MindBlowing Mindbending Language™