Exclusive mindbending language course

LIVE EVENTS - SUPER CONTENT - PRETALK SKILLS AND MORE

HOW TO INSTANTLY NAIL THE PROBLEM AND SECURE OUTCOMES BEYOND THE CLIENT'S BELIEFS.
Content:
Four Online Live Events
Download The Full Manual
In-depth content videos
Exclusive Bonus Videos
Bonus Surprise Gift
Mastery tools

Get all the amazing and unique insight into how real mind bending language works.
including exclusive and brand new pre talk technique content.
What will you get IN THIS UNIQUE PACKAGE ?

Here's your overview of the package!
Online Course

Get access to some of the most valuable mindbending content I have created over the past few years.

Understand the true DNA of actual mindbending language.

How to construct it, and more importantly - why it works?
Online live events

I am putting together four exclusive online live events where you can participate and ask questions, similar to a master class.

If you join or not, it's totally up to you. We save all live videos within your online access for later review.
Bonus content

I always want to give my students more!

Therefore I have added several bonus videos to inspire you and show you different ways of utilizing the mindbending language.
6 MBL Steps
Learn the perfect six step to create MBL on the go
Problem/Outcome matrix
Learn how to nail any problem within minutes, and how to secure an expected outcome that you will go beyond during the session.
Pretalk Reframe Model
Learn the perfect tool to overcome any client without knowing anything about them or their "problem"
"Must have" insights for every therapist - perfected by Martin Castor.
Instant change
Learn how to create instant change with great positive impact on the clients emotions and senses.
Release even more ressources fast.
devalurize problems
learn how to take away all energy from a problem state in seconds.
Attention Shifting Language
Become the "Pattern Interrupt" Master of all conversation with the purpose of instant change and impact.
POWERWORDS &
SUDA SCALE
Key factors in any life changing conversation with anyone.
Learn how to use it with success. And understand the processes and chemistry it activates.
MBL Neuroscience
Understand the importance of the neuroscience in MindBending Language. Words are not just words.
BEFORE THE DISCOUNT RUNS OUT
$1050 OFF RIGHT NOW - NOW ONLY $247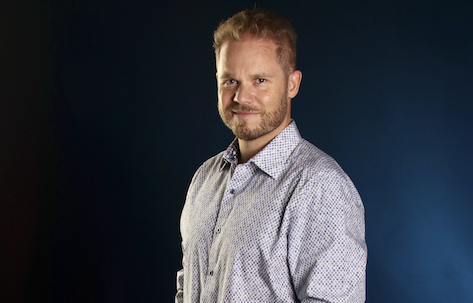 We're proud to have Martin leading our team of highly qualified professionals, all acknowledged experts in their respective fields with international certifications. Martin's experience as a renowned hypnosis instructor, content developer, keynote speaker, and performer has made him a well-known figure on the international stage and conference circuit.
With a diverse background as a licensed international bodyguard and founder of one of Denmark's largest undercover security firms in the 90s, Martin's 4.5-year degree in photography, editing, and journalism makes him the ideal candidate for bridging the gap between complex and sophisticated content, and simplifying it for modern hypnotherapy, coaching, and skill-building.
Martin's exceptional abilities to inspire and transform have earned him numerous awards and recognition, including the ICBCH Educator of the Year Award 2019, ACHE's Award of Recognition for Outstanding Professional Presentation 2019, and the North American Academy of Hypnosis Instructor of the Year Award 2018, to name a few. He sits on several advisory boards and is a bestselling author, certified in multiple areas including NLP, hypnotherapy, life coaching, and more.
Discover the power of exceptional communication and transformation with Martin Castor, your ultimate business coach!
AWARDS:
ICBCH's Educator of the Year Award 2019

ACHE's Award of Recognition for an Outstanding Professional Presentation 2019

North American Academy of Hypnosis Instructor of the Year Award 2018

ICBCH's Award of Contribution to Hypnotherapy 2018

ACHE's Award of Recognition for an Outstanding Professional Presentation 2018

IHF's Award of Excellence of International Education 2013.
CERTIFICATIONS:
Certified Trainer in Brain-based Leadership & Training

Certified HNLP & NLP Trainer

Certified NLP Practitioner & Master NLP Practitioner.

Certified Master Hypnotherapist.

Certified Transformational Leadership Consultant.

Certified Executive & Professional Life Coach.

Certified clinical hypnotherapist.

Certified Conversational Hypnotherapist.

Certified Ericksonian Hypnotherapist.
Advisory roles:
ACHE Vice President, and chair of Marketing & Conference

Advisory Boardmember of ICBCH

Advisory Boardmember of ISAHt

Advisory Boardmember of IHF
AUTHOR:
2023: Two hypnotic children books for sleeping disorders, published on Amazon.

2019: Bestselling author in the psychology category on Amazon: "Your successs starts with your pre talk!"
DEVELOPER OF:
Modern Conversational Hypnotherapy™

Instant Emotional Relief

™

Gastric Hypnosis The Ballon Method ™

Performance Enhancement Protocol

™

EEL, PEP, CERI, POC

Inductions ™

Trauma Collapse Technique ™

Martin Castor's Show & Stage Hypnosis Techniques™

Addiction & Behavioral Modification™

MindBlowing Mindbending Language™
Final Opportunity: Unlock Exceptional Value!
Before you proceed, consider elevating your expertise with our Ultimate Package. For an additional $200, gain access to all three comprehensive courses - a strategic investment in your professional growth. This exclusive offer is designed to enhance your therapeutic arsenal significantly, and it's an opportunity we may not offer again.