PRE-COURSE STUDENT ACCESS
Trauma Collapse Technique practitioner
A COMPLETE GAMECHANGER WHEN IT COMES TO TRAUMA, ANXIETY & PTSD


Trauma Collapse Technique is a well-researched, validated, and client-proven process with brilliant trauma release capabilities.
The process is based on how the brain's neural networks interact with the nervous system and how newly discovered positive resources create immediate change.
We have tested this protocol on various levels of PTSD, on psychologists and psychiatrists as clients, and all of it with stunning results.
ACCESS
24/ pre & post course access
Overview
A Safe way to release traumas
We have created the ultimate tool to solve and work with trauma, anxiety, PTSD, and more. All challenges a large number of the world population struggles with. As a united universal power tool.
This swiss knife of a multifaceted technique is built with some of the most sophisticated hypnotherapeutic methods and advanced NLP, HNLP, and coaching techniques. Created in a unique bridge-building flow developed through many years, providing life-changing sessions with long and forever-lasting positive results.
Even without classic hypnosis or the old "close your eyes" setup.
It is undoubtedly a unique protocol. After completion, you will have the option of advancing to becoming a TCT trainer, so even more people can use this extraordinary game-changer.
We've spent many years developing and fine adjust the protocol. Through a decade of visiting international hypnosis conferences, where we had the opportunity of sharing and demoing the technique, we are very confident in the final product.
The protocol is a trauma-focused technique that will reframe and convert ant trauma into resources without discussing or going into the trauma. This has turned out to be why so many seem to enjoy and be attracted to the process.
We have even developed the protocol in a way, so you won't have to be a hypnotist to master, facilitate, or understand the process.
The journey started with Martin Castor's passion for helping first responders and the military to be able to overcome their trauma. Both those still in their jobs, and even more so, the people who couldn't manage and have given up on life.
This was a unique tool for those people and their families.
That became the start and foundation, and after many amazing life-changing case stories, we knew that more people would be able to move on in their lives with this protocol. Now we are proud of having practitioners and trainers all over the world.
Even more impressive is that about 50% of our practitioners are from outside the hypnotherapist environment.
Teaching and class outline
Fast and efficient induction and preparation of clients for better results, with maximum relaxation.
C.E.R.I.
Super induction, which works with any client and activates all senses, creates an instant power state to optimize the client.
Coaching Model

A pure "cut to the chase" technique that will ensure that any confusion is transitioned into knowledge and change. A conversational reframe and attention shifting technique which can be used "on the go" at any moment. A client guarantee for positive change.
Pretalk techniques
To ensure and maintain a positive focus and to guide the client to empowered success.
Prime Peak teknik
To ensure and maintain a positive focus and to guide the client to empowered success.
Castorian Collapse Technique
The heart of the session. A stunning technique to release any trauma. YES! Any trauma. Its brilliance will convert negative memories and beliefs into positive natural resources and emotions, felt instantly by the client, which will immediately overload any negative state through compounding.
Frustrate Response / Dream Arm
Parts Therapy with a surprising twist. This brilliant way to perform modern parts therapy is simplified compared to other methods but multiplied in power due to its positive integration and intention.
Two days intensive live training

Access to our student group and online community
A lack of faith is no obstacle in this process.
We have worked with hundreds of clients who didn't trust the process or were resitting the idea throughout the entire protocol sequence. Despite that, there are no registered cases without a positive result even after just one session. NO CASES. That is unique about TCT. It works on a whole other level of efficiency and conversation beyond regular hypnotherapy. There is rarely a need for a second follow-up session, and the client is the one who creates the change needed, accepts what was and their new resources, and naturally and automatically moves on.
Safety and efficiency are paramount.
One of the most important things while developing this tool is to accommodate all layers and types of trauma without encountering the trauma or memory.
We are using an unconscious backdoor gateway to overwhelm the client with the client's resources and power and to overcome whatever challenges there have been so far. It is a way to utilize the brain's natural tendencies of instant change and discover and empower positive physiological states. That will affect behavior, skills, and self-image immediately. Our brain and body are biological machines that run on all sorts of stimulation. We are using this to hijack and overload the problem state, eventually releasing it naturally and ensuring positive change from the inside out. NOT through conscious thinking and conversation challenged by belief or the lack of faith.
That has been proven to be the most natural and safe way for clients to encounter and release their traumas. In-depth science and understanding are a high priority in this class.But also, professions like sales, management, and more have been using the system to optimize communication.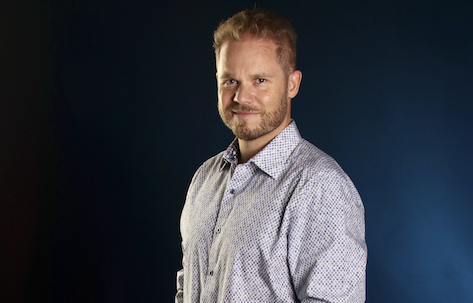 We're proud to have Martin leading our team of highly qualified professionals, all acknowledged experts in their respective fields with international certifications. Martin's experience as a renowned hypnosis instructor, content developer, keynote speaker, and performer has made him a well-known figure on the international stage and conference circuit.
With a diverse background as a licensed international bodyguard and founder of one of Denmark's largest undercover security firms in the 90s, Martin's 4.5-year degree in photography, editing, and journalism makes him the ideal candidate for bridging the gap between complex and sophisticated content, and simplifying it for modern hypnotherapy, coaching, and skill-building.
Martin's exceptional abilities to inspire and transform have earned him numerous awards and recognition, including the ICBCH Educator of the Year Award 2019, ACHE's Award of Recognition for Outstanding Professional Presentation 2019, and the North American Academy of Hypnosis Instructor of the Year Award 2018, to name a few. He sits on several advisory boards and is a bestselling author, certified in multiple areas including NLP, hypnotherapy, life coaching, and more.
Discover the power of exceptional communication and transformation with Martin Castor, your ultimate business coach!
AWARDS:
ICBCH's Educator of the Year Award 2019

ACHE's Award of Recognition for an Outstanding Professional Presentation 2019

North American Academy of Hypnosis Instructor of the Year Award 2018

ICBCH's Award of Contribution to Hypnotherapy 2018

ACHE's Award of Recognition for an Outstanding Professional Presentation 2018

IHF's Award of Excellence of International Education 2013.
CERTIFICATIONS:
Certified Trainer in Brain-based Leadership & Training

Certified HNLP & NLP Trainer

Certified NLP Practitioner & Master NLP Practitioner.

Certified Master Hypnotherapist.

Certified Transformational Leadership Consultant.

Certified Executive & Professional Life Coach.

Certified clinical hypnotherapist.

Certified Conversational Hypnotherapist.

Certified Ericksonian Hypnotherapist.
Advisory roles:
ACHE Vice President, and chair of Marketing & Conference

Advisory Boardmember of ICBCH

Advisory Boardmember of ISAHt

Advisory Boardmember of IHF
AUTHOR:
2023: Two hypnotic children books for sleeping disorders, published on Amazon.

2019: Bestselling author in the psychology category on Amazon: "Your successs starts with your pre talk!"
DEVELOPER OF:
Modern Conversational Hypnotherapy™

Instant Emotional Relief

™

Gastric Hypnosis The Ballon Method ™

Performance Enhancement Protocol

™

EEL, PEP, CERI, POC

Inductions ™

Trauma Collapse Technique ™

Martin Castor's Show & Stage Hypnosis Techniques™

Addiction & Behavioral Modification™

MindBlowing Mindbending Language™