The field of hypnosis has witnessed a paradigm shift with the emergence of the modern conversational approach, pioneered by The Hypno Academy. This innovative technique utilizes conversational hypnosis to induce hypnotic states and facilitate therapeutic change. In this article, we explore the newest discoveries and scientific insights related to the modern conversational approach of The Hypno Academy.
The Power of Language in Hypnosis:
The modern conversational approach recognizes the profound influence of language in inducing hypnotic states and promoting therapeutic change. Recent studies have focused on understanding the linguistic patterns and techniques employed in conversational hypnosis. Researchers have found that specific linguistic structures, embedded commands, and indirect suggestions can effectively bypass resistance and engage the unconscious mind. The Hypno Academy's research in this area has contributed significantly to the advancement of conversational hypnosis as a powerful therapeutic tool.
Neuroplasticity and Hypnosis:
Neuroplasticity, the brain's ability to reorganize and form new neural connections, has become a focal point of research in relation to hypnosis. Studies conducted in collaboration with The Hypno Academy have demonstrated that hypnotic suggestions can influence neuroplasticity, leading to profound changes in neural pathways associated with behavior, emotions, and cognition. This research highlights the potential of the modern conversational approach in harnessing the brain's plasticity to facilitate positive transformations in individuals.
Personalized Approaches in Conversational Hypnosis:
One of the significant advancements of the modern conversational approach is its emphasis on personalization. The Hypno Academy's research has shown that tailoring hypnotic interventions to individual preferences, beliefs, and values can enhance the effectiveness of therapy. Recent studies have explored the use of conversational hypnosis techniques, such as embedded metaphors and storytelling, to create personalized experiences that resonate with the individual's subconscious mind. This personalized approach holds great promise in achieving profound and lasting therapeutic results.

The modern conversational approach introduced by The Hypno Academy represents a groundbreaking shift in the field of hypnosis. By harnessing the power of language, understanding neuroplasticity, and personalizing therapeutic interventions, this approach offers new possibilities for transformative change. The academy's commitment to scientific research and innovation has contributed to the understanding and application of conversational hypnosis in a variety of therapeutic settings. As further discoveries unfold, the modern conversational approach is poised to revolutionize the practice of hypnosis and hypnotherapy.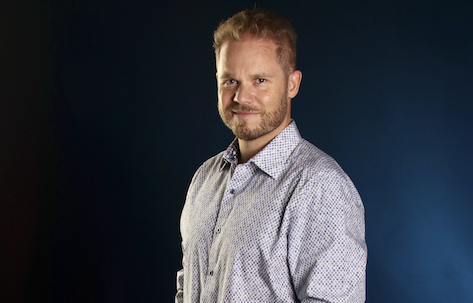 We're proud to have Martin leading our team of highly qualified professionals, all acknowledged experts in their respective fields with international certifications. Martin's experience as a renowned hypnosis instructor, content developer, keynote speaker, and performer has made him a well-known figure on the international stage and conference circuit.
With a diverse background as a licensed international bodyguard and founder of one of Denmark's largest undercover security firms in the 90s, Martin's 4.5-year degree in photography, editing, and journalism makes him the ideal candidate for bridging the gap between complex and sophisticated content, and simplifying it for modern hypnotherapy, coaching, and skill-building.
Martin's exceptional abilities to inspire and transform have earned him numerous awards and recognition, including the ICBCH Educator of the Year Award 2019, ACHE's Award of Recognition for Outstanding Professional Presentation 2019, and the North American Academy of Hypnosis Instructor of the Year Award 2018, to name a few. He sits on several advisory boards and is a bestselling author, certified in multiple areas including NLP, hypnotherapy, life coaching, and more.
Discover the power of exceptional communication and transformation with Martin Castor, your ultimate business coach!
AWARDS:
ICBCH's Educator of the Year Award 2019

ACHE's Award of Recognition for an Outstanding Professional Presentation 2019

North American Academy of Hypnosis Instructor of the Year Award 2018

ICBCH's Award of Contribution to Hypnotherapy 2018

ACHE's Award of Recognition for an Outstanding Professional Presentation 2018

IHF's Award of Excellence of International Education 2013.
CERTIFICATIONS:
Certified Trainer in Brain-based Leadership & Training

Certified HNLP & NLP Trainer

Certified NLP Practitioner & Master NLP Practitioner.

Certified Master Hypnotherapist.

Certified Transformational Leadership Consultant.

Certified Executive & Professional Life Coach.

Certified clinical hypnotherapist.

Certified Conversational Hypnotherapist.

Certified Ericksonian Hypnotherapist.
Advisory roles:
ACHE Vice President, and chair of Marketing & Conference

Advisory Boardmember of ICBCH

Advisory Boardmember of ISAHt

Advisory Boardmember of IHF
AUTHOR:
2023: Two hypnotic children books for sleeping disorders, published on Amazon.

2019: Bestselling author in the psychology category on Amazon: "Your successs starts with your pre talk!"
DEVELOPER OF:
Modern Conversational Hypnotherapy™

Instant Emotional Relief

™

Gastric Hypnosis The Ballon Method ™

Performance Enhancement Protocol

™

EEL, PEP, CERI, POC

Inductions ™

Trauma Collapse Technique ™

Martin Castor's Show & Stage Hypnosis Techniques™

Addiction & Behavioral Modification™

MindBlowing Mindbending Language™