NEW CAREER ? - OR OPTIMIZE THE ONE YOU ALREADY HAVE!
LEARN FROM THE BEST THERE IS!
AWARD WINNING CONTENT AND COURSES
Benefits of our training programs
We are proud of our six-time Award-winning and intellectual patented content and unique multiple approvals and examination certifications in leading International branch organisations.
Are you a motivated individual with a passion for hypnotherapy and related fields?
The Hypno Academy is looking for an intern to assist our Master Trainer with organizing, proofreading, and sending out certificates, as well as potentially helping with social media advertising. In return, you'll receive a seat in our US-based live trainings and attractive discounted accommodation. If you're interested in this exciting opportunity, apply now through our website!
\Learnworlds\Codeneurons\Pages\ZoneRenderers\CourseCards
18
Countries we taught in
98%
COURSE COMPLETION RATE
Unique Teaching Platform
We offer a specialized blend of teaching formats for a unique hybrid experience.
Using the latest technology provides you with the best learning experience, a mix of in-person training, live online events, online or live group sessions, and eLearning self-study.
Get the best from our brilliant instructors, and take a deep dive into the content with their passionate and skillful way of teaching.
\Learnworlds\Codeneurons\Pages\ZoneRenderers\CourseCards
Join the community

Stay current. Subscribe to our newsletter.
Be first in line when we launch free access content, special discounts, or brand new designed protocols for professional use.
Anyone can subscribe. Just fill in your email address above. It's easy to unsubscribe or change your preferences whenever you wish.
ONLINE BASIC HYPNOSIS FUNDAMENTALS COURSE
100 % FREE
GET ACCESS NOW

No strings attatched!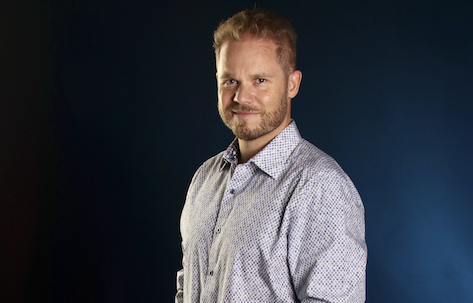 We're proud to have Martin leading our team of highly qualified professionals, all acknowledged experts in their respective fields with international certifications. Martin's experience as a renowned hypnosis instructor, content developer, keynote speaker, and performer has made him a well-known figure on the international stage and conference circuit.
With a diverse background as a licensed international bodyguard and founder of one of Denmark's largest undercover security firms in the 90s, Martin's 4.5-year degree in photography, editing, and journalism makes him the ideal candidate for bridging the gap between complex and sophisticated content, and simplifying it for modern hypnotherapy, coaching, and skill-building.
Martin's exceptional abilities to inspire and transform have earned him numerous awards and recognition, including the ICBCH Educator of the Year Award 2019, ACHE's Award of Recognition for Outstanding Professional Presentation 2019, and the North American Academy of Hypnosis Instructor of the Year Award 2018, to name a few. He sits on several advisory boards and is a bestselling author, certified in multiple areas including NLP, hypnotherapy, life coaching, and more.
Discover the power of exceptional communication and transformation with Martin Castor, your ultimate business coach!
AWARDS:
ICBCH's Educator of the Year Award 2019

ACHE's Award of Recognition for an Outstanding Professional Presentation 2019

North American Academy of Hypnosis Instructor of the Year Award 2018

ICBCH's Award of Contribution to Hypnotherapy 2018

ACHE's Award of Recognition for an Outstanding Professional Presentation 2018

IHF's Award of Excellence of International Education 2013.
CERTIFICATIONS:
Certified Trainer in Brain-based Leadership & Training

Certified HNLP & NLP Trainer

Certified NLP Practitioner & Master NLP Practitioner.

Certified Master Hypnotherapist.

Certified Transformational Leadership Consultant.

Certified Executive & Professional Life Coach.

Certified clinical hypnotherapist.

Certified Conversational Hypnotherapist.

Certified Ericksonian Hypnotherapist.
Advisory roles:
ACHE Vice President, and chair of Marketing & Conference

Advisory Boardmember of ICBCH

Advisory Boardmember of ISAHt

Advisory Boardmember of IHF
AUTHOR:
2023: Two hypnotic children books for sleeping disorders, published on Amazon.

2019: Bestselling author in the psychology category on Amazon: "Your successs starts with your pre talk!"
DEVELOPER OF:
Modern Conversational Hypnotherapy™

Instant Emotional Relief

™

Gastric Hypnosis The Ballon Method ™

Performance Enhancement Protocol

™

EEL, PEP, CERI, POC

Inductions ™

Trauma Collapse Technique ™

Martin Castor's Show & Stage Hypnosis Techniques™

Addiction & Behavioral Modification™

MindBlowing Mindbending Language™
Final Opportunity: Unlock Exceptional Value!
Before you proceed, consider elevating your expertise with our Ultimate Package. For an additional $200, gain access to all three comprehensive courses - a strategic investment in your professional growth. This exclusive offer is designed to enhance your therapeutic arsenal significantly, and it's an opportunity we may not offer again.